一如以往,HDcourse 會員可以使用優惠碼獲得 30% OFF,優惠碼為 'hdcourse',你只需要報名的時候輸入這個優惠碼,就可以獲得折扣。
2023 年 10 月 7 日: AI 自動化工作坊 – 公司流程自動化 + API + No code (荔枝角) 購買門票 (原價 $600,折扣後 $420)
實體工作坊的圖片及評語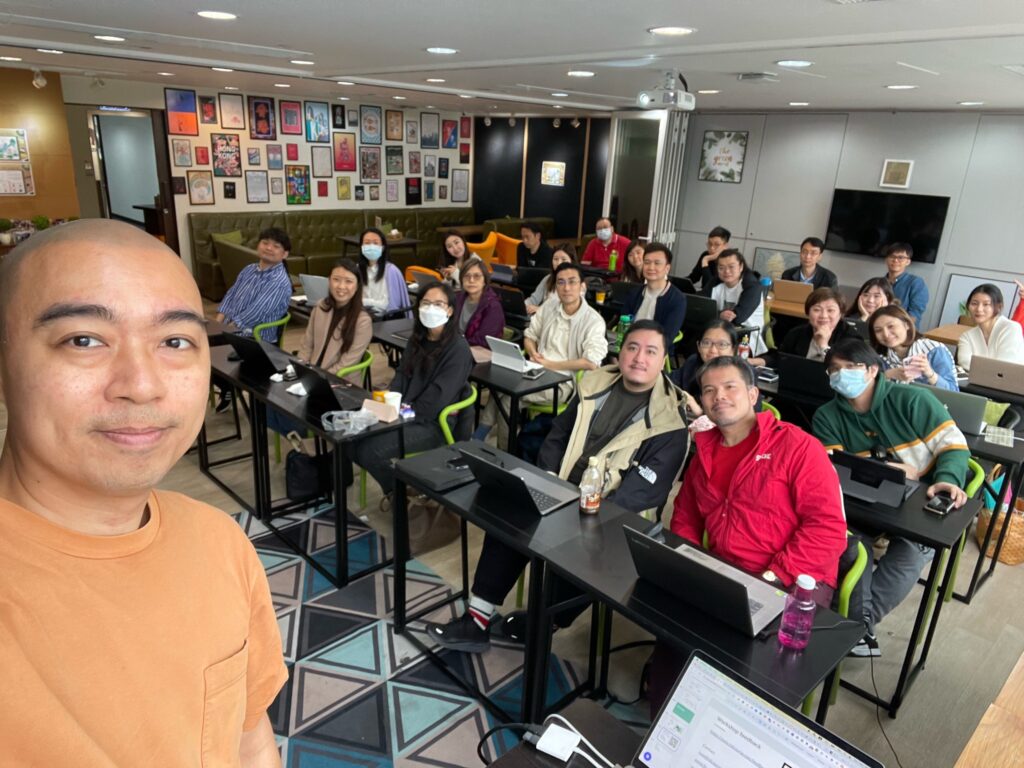 Have learnt new skills during class
Co-founder of HappyU Limited
It shared latest trends and technologies.
Digital Marketing Specialist of aXimed HK Limited
Learned many useful marketing tools. Content is compact. It's good to be such efficient. Clear and concise presentation. Inspiring. Love it.
learning new skills. 希望開多D不同講座
sales & ecommerce assistance
lots of useful tools and information shared which definitely help my business + real time practice help me instantly learn to use the skill and understand whether I really know how to use it. I suggest to have a longer lesson/programme
Business Consultant, Kenmaster360
A lot of information and useful sharing but it takes more time to digest.
PR Manager, Beauty Retail
Provide consolidated information
Manager – Talent Development Partner HR
very fruitful and resourceful
Assistant Marketing Manager, Medical
Introduced lots of ai tools and prompts that facilitate the usage of ai
Digital Marketing Executive, Healthcare
Have learnt a list of useful tools for AI application
get an idea for the prompt
intense informative. too fast for novice, many tools involved
digital markering, soundwill
bring in a lot of new ideas. the setup is nice
Very fruitful. Awaiting next workshop
Mind blowing and get to know more about trend
As a beginner of AI, the course is so fruitful and solved some problems in my status quo
update the useful tools using nowadays
Content editor, Dishtravel
Introduced many useful tools
Data analytics manager and part time lecturer, Manulife and hkuspace
設計素材多咗,工作效率快. 感謝你的用心及貼地更新💪🥰🫰🫶
Consultant, i-SHE Productions
Tons of AI tools and plugins introduced.
學到好多update實用的工具, 可以幫助提高工作效率, 幫助到不同思考方式
SalonFinder and hk1plus1, 中介平台及婚介
Nowadays, AI tools so too much. 不夠時間研究各種AI Tools. It helps me to know more AI tools. Introduce 市場上實用/ 職場上 有可能用到的工具 in future
Digital Marketing Officer, Phillip Securities Group
Clear instructions and fun
well timed. Very informative and useful 😀
Introduction of useful websites
A bit packed with information. Students must have prior knowledge to fully understand the content
Director, Blueinno Technology
Introduced different intervention. Want to learn stable diffusion control net
I learnt more tools. A bit too fast
So many good tool and practical skills + experience.
Marketing Manager, Boutir
More efficient in daily job
Learn different online tools
Digital marketing manager, NGO
Introduced many tools
Can arrange more advanced workshop. on specific topics: eg image generation
very helpful. introducing a lot up-to-date methods
Full of information, practices and very practical.
Marketing, Skinla Aesthetics
非常有成效. 很簡單和快捷地學習到很有用的東西,幫助我們解決重覆性的問題。
Director
ARVenture Studio Ltd
非常有成效
Acquired new technology and usage
Digital Marketing Specialist
aXimed HK Limited